Onslaught of COVID-19 pandemic shows how ill-prepared PH's system is
By James Masangya
Healthcare system is one of the vital services of every country in ensuring that proper health assessment, prevention and treatment of disease, and research and extension of information, is provided among its citizens. Aside from education and infrastructure, governments across the world take pride in the efficiency and best practices of their healthcare programs.
With the onslaught of the pandemic, it revealed how countries are faring in terms of managing COVID-19 depending on the stability and accessibility of their healthcare system.
As the Philippines is grappling towards staving off further damages of the said disease, several questions were raised regarding the reliability and capacity of our healthcare facilities and what should be done to properly address the problem. It is therefore important for us to review the status and trend of financing of the programs of our government geared towards the promotion of health and uncover policies which have gravely affected our ability to respond to the needs of the public, especially in times of crisis.
Healthcare expenditure
World Health Organization (WHO) iterates that the government's mobilization of funds is critical and essential in obtaining affordable and accessible services- eventually leading towards universal healthcare coverage.
The Philippines over the last decade had observed a significant increase in budget for healthcare in its bid to advance its health system, but a thorough introspection of available data says otherwise.
Data obtained from WHO manifests that there has been a recognizable increase in government expenditure for health, shown here as a percentage of our Gross Domestic Product (GDP), from 2014 to 2017.
But the aforementioned data does not necessarily translate to an improvement in government's prioritization for health. This graph shows a decline in the ratio of government appropriation for healthcare despite the increase in the funding of the Department of Health (DOH) for the implementation of Republic Act 11223 or the Universal Health Care Law.
In fact, according to IBON Foundation, an independent research organization, "the health sector budget has increased from P177.7 billion in 2019 to P185.5 billion in 2020, [but] its overall share in the national budget has fallen from 4.9% to 4.5 percent.
The P7.8 billion or 4.4% increase in the health sector budget is even eaten up by inflation." We can recall that since the start of the Duterte administration, its main priority was its flagship program for infrastructure, called Build! Build! Build!
Evidently, we are also lagging behind from other Southeast Asian counterparts in terms of allocating a portion of the national appropriation for health. Even to our supposed "twin economy" Thailand.
This trend only reinforces the fact that most if not all public hospitals still lack access to bare minimum facilities such as clean toilets, based from the report of WHO in 2019; it is also worth noting that a handful minimum wage earners and informal sector workers die without receiving any formal medical attention due to lack of available and affordable basic and specialized health services, especially in remote rural areas. 
Neoliberal attacks
Access to public healthcare has deteriorated over the past years, owing to the corporatization and privatization of public hospitals under the Marcos and succeeding regimes. This led to commodification and commercialization of healthcare practice in the country instead of being an equitable and mass-oriented public good; this left poor individuals with fewer affordable options thus forcing them to seek treatment in cramped-up, ill-equipped, and overstretched state-administered and local district hospitals. 
In 1993, the World Bank published a report entitled "Investing in Health " that drove the Ramos administration to worsen the already dire situation of public health, by imposing deregulatory and liberal policies. Based on the report, it urged the Philippines, being a developing country, to reduce spending on specialized care in tertiary facilities and should instead redirect it to low-cost and effective programs (i.e. immunization). It also encouraged the government to open healthcare services to private organizations in order to stimulate competition and enhance customer satisfaction. This move only intensified "out of the pocket" or personal expenses for clinical health services therefore rendering modern healthcare provision as a privilege and anti-poor for most marginalized Filipinos. 
COVID-19 only revealed these neglected issues when public hospitals within Metro Manila can no longer accommodate and support afflicted and non-afflicted patients. With almost 73% of the admitted confirmed patients are in the National Capital Region (NCR), they are expected to shoulder most of its care and treatment. There is already a petition to nationalize certain private hospitals in NCR in order to decongest and alleviate the stress of the designated COVID-19 centers.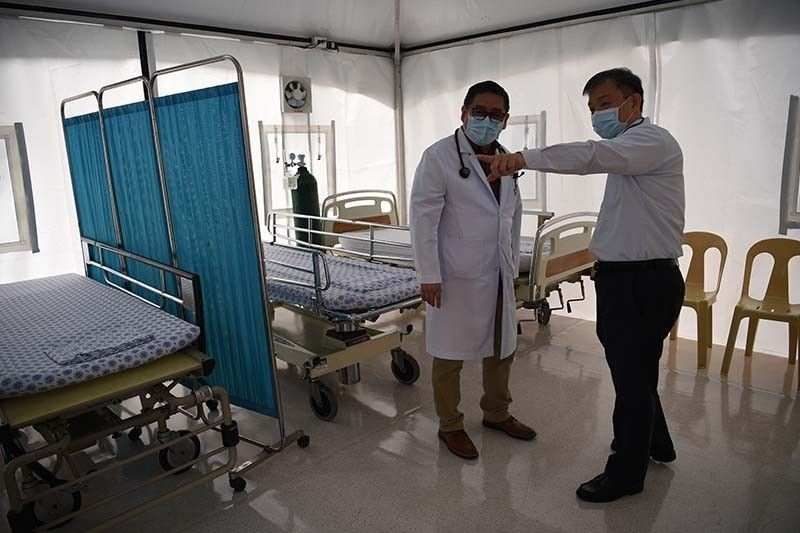 Shortage of health professionals
The Philippines is also experiencing a scarcity of healthcare workers. In 2017, DOH recorded 90 308 nurses and 40 775 doctors with the health worker to patient ratio pegged at 8.6:10000 and 3.9:10000 respectively. In comparison with other Southeast Asian countries, the Philippines is on par with Indonesia and Vietnam but lower than Thailand and Malaysia. This figure is still a far cry from the minimum threshold set by WHO which is 23 doctors and nurses per 10000 patients. 
This shortage is directly attributed to the low prioritization of the health sector and under compensation of its workers. Based on the available data from the Department of Labor and Employment (DOLE), entry-level registered nurses receive a salary of P8,000 – P13,500 per month while general practitioner doctors employed in hospitals get a monthly pay between P20,000 to P35,000 with consultation fee ranging from P300-P500. Most of them seek better opportunities abroad wherein they could receive ten times more than their current pay. Data from the Philippine Overseas Employment Agency (POEA), shows that 92,277 nurses left the country since 2012.  
On April 2, 2020, POEA issued a temporary ban on doctors and nurses from leaving to work abroad, as the country combats the pandemic. 
COVID-19 has only unmasked ill-practices besetting our healthcare system for the longest time. The programs of the government are only doomed to falter if it continues to neglect the legitimate needs of its people. The aim of the government to achieve a Universal Health Care should be based on the national interest rather than the orders of imperialist and capitalist foreign financial institutions. [P]
Featured photo courtesy of the Philippine Information Agency (PIA)